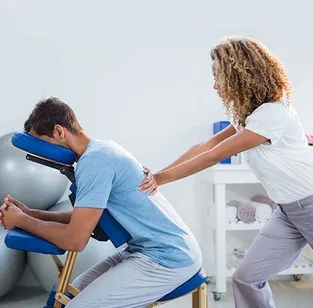 Proper alignment of the spine is a key component to chiropractic care. Whether you have been in an auto accident, have neck pain, or lack range of motion in a large joint, chiropractic adjustments can be used to put your spine back into alignment. At both the Atlanta Medical Institute in Atlanta, GA, and Atlanta Spine Health in Jonesboro, GA, Dr. Nicholas Carlisle works with patients using a wide range of therapies to support spine health. When you are looking for a chiropractor in Atlanta or Jonesboro, it's time to give Dr. Carlisle a call.
Treatment With a Chiropractor
The first step in getting treatment with a chiropractor is to schedule an evaluation to determine what is causing your pain, poor range of motion, or stiffness. During an evaluation, you will discuss how long your symptoms have been going on and if there was an injury prior to your symptoms starting. Chiropractic adjustments are only one treatment used in auto injury cases for neck pain, shoulder pain, low back pain, or lack of a range of motion. Supportive therapies are used to improve the strength of your muscles, increase circulation, and help you heal.
What to Expect With Chiropractic Adjustments
Chiropractic adjustments are not painful, and they can be performed several ways. A chiropractor can use a hand-held device called an activator to provide gentle adjustments throughout your spine. A specialized table can be used in chiropractic adjustments, and body movements are used to get your spine aligned. Most chiropractors use a combination of methods for chiropractic adjustments as needed. Once an adjustment is made, massage, ultrasound, or electric muscle stimulation may be used to help relax muscles and increase circulation.
Your Chiropractic Care and Healing
You will be scheduled with a chiropractor several times a week in the first stage of treatment. Chiropractic care builds on the session before it, and it's important to keep your scheduled appointments. If you are taught stretching and strengthening exercises, work on your exercises at home to improve your healing. Once you have less pain in between sessions, you can start to taper down how often you see the chiropractor for chiropractic adjustments. Some people come in once a month or so to maintain progress.
Schedule Your Chiropractic Care Now
If you are in pain, or trying to optimize your health, it's time to see if chiropractic adjustments can help. Contact the Atlanta Medical Institute in Atlanta, GA by calling 404-264-9553, option 1, or at Atlanta Spine Health in Jonesboro, GA at 678-771-3060